How to complete Super visa application form?
Are you planning to apply for Super visa for your parents or grandparents? If you are wondering how to proceed with the application, I am writing the information below to help you. Before applying you should download and keep checklist, which will help you to cross check the forms you have filled and supporting documents attached with the application. You can download the documents using this link below
Download the documents
To apply for super visa you'll need the application form. The name of application form currently used is IMM5257-E and provide certain additional documents to support your application. To download this form directly from CIC website use this Link. You should mention in the form that you are applying for super visa ( it comes under the category of multiple entry category) We are giving links to various other forms you may need for your application.
Do remember that in addition to being found admissible to Canada, the parent or grandparent must also:
provide a written commitment of financial support from their child or grandchild in Canada who meets a minimum income threshold
prove that they have bought Canadian medical insurance coverage for at least one year
and complete an Immigration Medical Examination.
While applying for Super visa application state all the facts and figures clearly. Get insurance cover from an insurance company that operates in Canada. You can fill our form for a free no obligation quote on the right hand side of this page or give us a call to clarify any doubts. it is always a delight to stay with your loved ones, specially elders. I wish you all the best and with your application.
About the author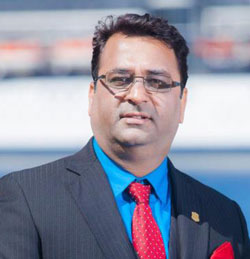 Sandeep Ahuja is President Operations Punjab Insurance Inc and a licensed Life and Health insurance advisor. He has been working in the financial services industry for over a decade, building a highly successful brokerage business
Unlike other organizations with the inability to provide client focused service,he can adapt quickly to changing conditions, ensuring that our clients receive a fast and efficient response to their needs. His goal is to deliver a complete range of insurance protection and financial services, matching them to client's needs and helping them make informed, responsible decisions to meet those needs.